About Rina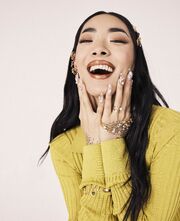 Rina Sawayama was born on 16 August 1990 in Niigata, Japan and lived there until her family decided to move to London, England when she was five. Her relationship with music comes from her university times when she was in a hip-hop group called Lazy Lion, while she was studying politics, psychology, and sociology at Cambridge University and decided to pursue the music and modelling industry. She started her solo career in 2013 with the release of her single "Sleeping In Waking". Rina released her debut mini-album Rina (2017), to positive reviews. The album produced three singles—including "Cyber Stockholm Syndrome". Her debut album, Sawayama was released in 2020 to widespread acclaim from music critics. The album produced five singles–including "XS" and "Chosen Family". The latter was updated with a feature of iconic English musician Elton John, released in 2021. Her sophomore LP, titled Hold the Girl, will be released on 2 September 2022. Read more...
Featured article

The Dynasty Tour was Sawayama's second concert tour, associated to her album Sawayama (2020). It commenced on 8 November 2021 in Dublin, Ireland, and concluded in 13 May 2022 in New York City. The tour was received with critical acclaim, while most of the shows were sold out and some venues were upgraded.

Featured song

"Cherry" is a self-written single recorded by Rina Sawayama, produced by Clarence Clarity and Hoost, and released in August 2018.

The song is often referred to as Sawayama's coming out song, as it is a proud proclamation of her identity as pansexual. Read more...


Featured photoshoot

Sawayama photographed at Brixton Academy by Zoe McConnell in London after the NME Awards on 2 March 2022. Styled by Jordan Kelsey, with hair by Ryo Narushima and makeup by Mona Leanne. She's wearing full outfit by SRVC Studio and belt by Justine Clenquet.
News

Did you know...

... that London-based producer Hoost (pictured) produced Rina Sawayama's first songs?
... that the Rina EP was originally titled Alone Together?
... that the very first version of "Alterlife" was written by Sawayama at 19? One of the initial versions of the song is known as "Love Tonight"
... that, of the 23 dates of the Dynasty Tour, 21 were sold out?
... that Rina has already finished her second album?
... that you can hear the Rina songs "Take Me as I Am" and "10-20-40" at the end of the track "Fuck This World (Interlude)" from Sawayama?
... that Sawayama's second single released is titled "Terror"? It has since been removed from music platforms for unknown reasons.
... Did you know that while growing up, Sawayama had a difficult relationship with her mother? Their relationship would inspire the songs "Paradisin'" and "Catch Me in the Air".