The Dynasty Tour was the second concert tour by Rina Sawayama, in support of her debut studio album Sawayama (2020). The tour was originally set to begin on April 24, 2020 in Los Angeles and to conclude on May 21, 2021; however, due to fears from COVID-19, all of the original planned dates were canceled or postponed for 2021, commencing on 8 November in Dublin, Ireland and concluding on 13 May 2022 in New York City, U.S.
For the tour, Sawayama has partnered with PLUS1 so "that $1 from every ticket sold went to environmental organizations working to protect the health of our planet and all of its inhabitants."[1]
The Dynasty Tour received universal acclaim from critics, with Alim Kheraj from i writing that "it felt like a superstar was born." Due to high demand and all the dates sold out, some venues were upgraded and new dates were added. The last show for the first leg on 17 November at the Roundhouse was filmed for a exclusive livestream titled "The Dynasty Tour Experience", which was livestreamed on 19 December on Moment House.
Background and development
[
]
On January 17, 2020, the singer announced through social media that she will tour North America and Europe that year.[2] Due to fears from COVID-19, the tour dates were rescheduled to 2021.[3]
On September 30, 2020, Rina posted the new 2021 dates for North American leg.[4] On October 12, it was announced that, due to incredible demand, Rina would be headlining a show in November 17, 2021, at Roundhouse, this being her biggest show to date.[5]
On 28 October 2021, Sawayama posted a video of rehearsals for the tour.[6] The following day, she posted the official tour trailer, on her social media.[7]
In December, Sawayama announced that all four March 2021 dates would be canceled due to the resurgence of COVID-19 in Europe. On 14 February 2021, due to "phenomenal demand," some shows for the North American leg were upgraded and two more shows were added.
Critical reception
[
]
Professional ratings
Review scores
Source
Rating
NME
[8]
i
[9]
The Guardian
[10]
The Times
[11]
The Skinny
[12]
The Telegraph
[13]
The Dynasty Tour received widespread critical acclaim from music critics, many of whom praised Sawayama's stage presence and engagement to her audience, as well as her outfits and set.
Europe
[
]
Reviewing the first show in Dublin, Kate Brayden from Hot Press wrote "Sawayama gave her fans a night to remember at the Academy: she'll never be in venues this small again, Rina is making the best case for her to become the new decade's reigning dance-floor diva".[14]
The show in Manchester on 10 November 2021 received critical acclaim. Hannah Mylrea of NME gave it five stars out of five, and described it as "a dazzling and moving experience."[8] Writing for the i, Alim Kheraj also gave the show five stars out of five, and commented that the first show in Sawayama's long-delayed tour was worth it. He also wrote that she treated the show as if she was headlining an arena. "Not since Gaga has an artist showed such respect, reverence and command over pop. In a former Wesleyan chapel in Manchester city centre, it felt like a superstar was born."[9] The Guardian's Fergal Kinney, who also gave the show five stars out of five, wrote that the tour "walks the line between exuberant victory lap and striking political statement."[10]
North America
[
]
Writing for the student newspaper Daily Bruin, Ashley Kim praised the 9 April show at the Fonda Theatre. She felt that even late at night, "Sawayama kept a tight grip on the audience's attention with her alluring presence and vibrant performance."[15] Kim also praised the simple but effective set, lights, dancers and Sawayama's engagement to her audience. She concluded her review by writing: "Sawayama is living up to her name as she establishes a new dynasty on tour."[15]
The Dynasty Tour Experience
[
]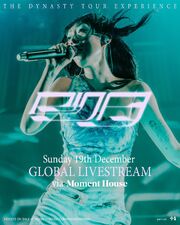 Sawayama teamed up with Moment House for a global livestream of the Dynasty Tour to 19 December 2021.[16][17] The show was filmed at her show in London on 17 November 2021.
Tickets were available worldwide at 3:00 p.m. GMT on November 19. A Behind-The-Scenes documentary ticket of the tour was also available for purchase, and an exclusive T-shirt.
Set list
[
]
The following set list is representative of the 17 November 2021 show in London. It does not represent all concerts for the duration of the tour.
Shows
[
]
Leg 1: Europe
[
]
Date
(2021)
City
Country
Venue
Supporting acts
Europe
8 November
Dublin
Ireland
The Academy
Hana
9 November
Manchester
England
Albert Hall
Hana


Ama Jones

11 November
Leeds
Beckett Students' Union
13 November
Glasgow
Scotland
SWG3 TV Studio
15 November
Birmingham
England
O2 Institute Birmingham
16 November
London
Electric Brixton
17 November
Roundhouse
Leg 2: North America
[
]
Date
(2022)
City
Country
Venue
Supporting acts
North America
9 April
Los Angeles
United States
The Fonda Theatre
Hana
11 April
San Francisco
The Warfield
12 April
16 April[note 1]
Indio
Empire Polo Club
N/A
19 April
Seattle
Neptune Theatre
Hana
20 April
Portland
Roseland Theater
23 April[note 1]
Indio
Empire Polo Club
N/A
26 April
Denver
Ogden Theatre
Hana
29 April
Minneapolis
First Avenue
30 April
Chicago
Riviera Theatre
2 May
Toronto
Canada
HISTORY
3 May
Montréal
Théâtre Corona
5 May
Boston
United States
Royale
6 May
Washington
The Howard
7 May
Philadelphia
Theatre of Living Arts
8 May
Brooklyn
Brooklyn Steel
9 May
13 May
New York City
Terminal 5
Cancelled shows
[
]
Date
City
Country
Venue
Reason
11 March 2022
Amsterdam
Netherlands
Melkweg Oude Zaal
COVID-19 concerns in Europe[18]
19 March 2022
Paris
France
La Gaîté Lyrique
20 March 2022
Brussels
Belgium
Botanique Orangerie
22 March 2022
Amsterdam
Netherlands
Melkweg Oude Zaal
23 March 2022
Berlin
Germany
Lido
Media
[
]
Personnel
[
]
Performers

Rina Sawayama – lead performer
Simone Odaranile – drummer
Vic Jamieson – guitarist (first leg)
Emily Rosenfield – guitarist (second leg)

Shola B Riley

– backup dancer

Nakai Warikandwa

– backup dancer
Hana – opening act

AMA Jones

– opening act

Technical

Chester Lockhart – tour director, visual director, design, additional arrangement

Claire Elizah

– tour manager

Max Cooke

– musical director
Clarence Clarity – additional arrangement
Chris Yeomans – lights
Calum Mordue – production manager, FOH engineer
Jack Childs – sound
Bob Munro – sound

Jordan Kelsey

– fashion stylist
Jake Gallagher – hair stylist (first leg)

Gregg Lennon Jr

– hair stylist (second leg)

Joshua Base Pilmore

– choreographer
Alice Backham – tour photographer
Notes
[
]
References
[
]
Rina Sawayama
Albums
Extended plays
Films
Television
Concert tours